Compact pallet truck from Linde Material Handling
Robust, maneuverable, durable and flexible: These are just a few of the positive features of the new electric pedestrian pallet truck from Linde Material Handling with 1.5-ton load capacity. Offering even more convenient operation and enhanced safety functions, it is the ideal helper in loading and unloading trucks, last mile delivery, rapid transport in industrial applications and goods handling in supermarkets and stores.
The areas of application for pallet trucks in this weight class are as varied as the demands placed on them. In particular, they are designed to help operators transport loads quickly and safely – even in limited space. "With the new Linde MT15, we are launching a truck that is simple yet comes with all the important features of the Linde DNA, such as quality, safety, comfort and high performance," says Toufik Oussou, Senior Product Manager Warehouse Trucks at Linde Material Handling. In order for the pallet truck to be able to maneuver in confined spaces, it has been designed with especially compact dimensions. The chassis length (dimension L2) is 400 millimeters, the overall width (dimension B1) measures 620 millimeters, and the total weight of only 180 kilograms allows the truck to be used in mezzanine floors or on lifting platforms. With a maximum speed of 5 km/h when loaded and 5.5 km/h without load, the truck is significantly faster than most other pallet trucks in its class. Its gradeability is also above the market average: the Linde MT15 achieves 8 percent when loaded and 20 percent when unloaded. A 48-volt lithium-ion battery with a choice of 20 Ah or 30 Ah provides sufficient power for up to three hours of operation. The powerpack can be recharged at any suitable socket by means of the built-in on-board charger. If there is no time for this, users can order an external charger and another battery and swap over via plug-and-play.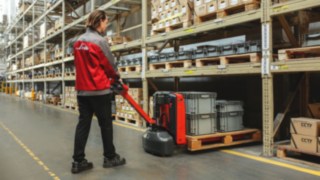 Numerous other features of the vehicle serve to improve the personal protection of employees and enable even more ergonomic, comfortable work. To prevent injuries, the pallet truck is equipped with a long, low-mounted tiller that creates a large safety distance between the operator and the vehicle when in motion. Even with the tiller in a vertical position, the truck can be actuated at a low speed thanks to the creep speed function. This is particularly helpful when maneuvering in confined spaces, for example in loading platforms or in narrow production and storage areas.
The tiller head, which has been further developed as well, is also designed to provide a high level of protection and much comfort. A circumferential metal ring protects the driver's hands, and the switches for the direction of travel, initial lift, creep speed and horn, as well as the safety belly switch, are located centrally for easy access. The deep-drawn chassis prevents foot injuries and damage to the load arms. A multifunctional display provides information on operating hours, maintenance due, battery status and error codes.
Robust drive and load wheels in various designs as well as sturdy bumpers prevent premature wear. The battery management system protects against improper use and thus extends the service life of the accumulator.